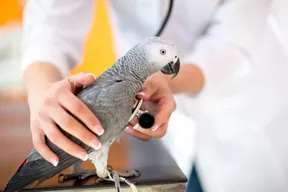 Our clinic offers on-call after-hours emergency care at an affordable price.
If your bird, ferret, rabbit, reptile, rodent or other exotic pet is in need of emergency care, please call our main number (540) 989-4464 for voicemail instructions and/or referrals.
Emergency and after hour dog and cat care - call Emergency Veterinary Service: (540) 563-8575.
Pet Poison Helpline (per incident fee) (800) 213-6680 or www.petpoisonhelpline.com
---


Emergency Situations
Major emergencies
Hit by Car
Lacerations
Eye injuries
Blood loss of any kind
Trauma of any kind
Difficulty breathing
Seizures and Tremors
Significant Pain
Toxin Exposure
Diarrhea- persistent
Vomiting- persistent
Difficulty Urinating
Choking/gagging
Allergic Reactions
Painful, tense abdomen

Paralysis- Not using limbs
Significant lameness
Anorexia
Avian:
Any weakness
Staying at the bottom of cage not perching, holding leg up or wing out.
Ruffled or fluffed up
Blood loss of any kind
Pronounced keel bone; not eating
Discharge from eyes, nose, mouth or ears
Continuous closing or squinting of the eyes
Labored breathing or tail bobbing
Sleeping a lot; not talking or singing (if does normally)
Matted or caked vent (anus); loose or malodorous droppings; sudden change in color of stool or urine; blood in droppings
Prolonged straining to pass stool or egg
Tremors, seizures
Difficulty breathing
Paralysis
Ferrets:
Diarrhea
Vomiting, pawing at the mouth (may indicate nausea due to dangerously low blood sugar)
Frequent trips to litter box with little or no urine production
Tense abdomen
Depression
Lack of appetite
Any bleeding, wounds
Eye irritation or squinting
Discharge from eyes, nose, mouth or ears
Tremors, seizures
Pale mucous membranes (gums)
Difficulty breathing
Limping or Paralysis
Rabbits and Chinchillas:
Diarrhea or decreased number of stool
Lack of appetite
Weakness
Depression
Painful when lifted or touched
Limping or Paralysis
Any bleeding, wounds
Eye irritation or squinting
Discharge from eyes, nose, mouth or ears
Tremors, seizures
Pale mucous membranes (gums, under bottom eyelid)
Difficulty breathing
Gastrointestinal Bloat
Guinea Pigs and other rodents:
Any bleeding, wounds
Eye irritation or squinting
Discharge from eyes, nose, mouth or ears
Tremors, seizures
Pale mucous membranes (gums, under bottom eyelid)
Difficulty breathing
Diarrhea or decreased number of stool

Lack of appetite
Weakness
Depression
Painful when lifted or touched
Head tilted to one side
Limping or Paralysis
Reptiles:
Not eating or drinking
Not defecating or urinating
Tremors
Hold eye (s) shut, squinting, red, irritated
Diarrhea
Any bleeding or wounds
Eye irritation or squinting
Discharge from eyes, nose, mouth or ears
Tremors, seizures
Difficulty breathing
Limping or Paralysis
Hedgehogs:
Inactive, weakness
Losing weight
Not eating or drinking
Not urinating or defecating
Vomiting or diarrhea
Difficulty breathing
Blood loss of any kind
Paralysis
Sugar Gliders:
Not eating or drinking
Not urinating or defecating
Tremors or seizures
Blood loss of any kind
Vomiting or diarrhea
Difficulty breathing
Limping, paralysis, material (string, etc) around digits